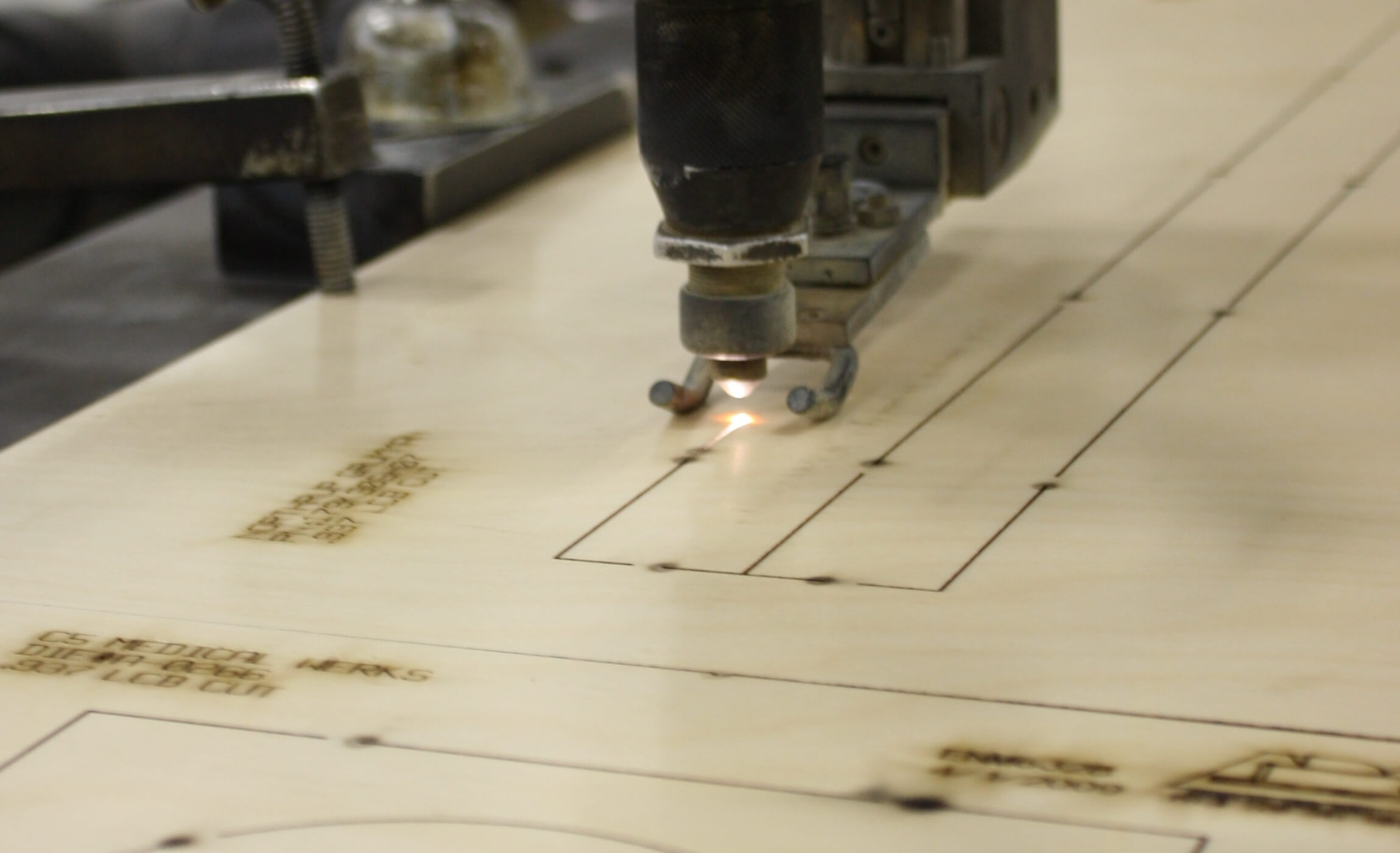 Flat birch die boards or plywood for laser cutting is our specialty. Baltic birch is considered an ideal raw material for the production of plywood, used in the manufacture of top dies.
PG Wood is a leading company in the field of plywood for laser cutting.
"Laser plywood" is made only from birch wood. This plywood is used for laser cutting. The plywood is glued using urea-formaldehyde glue, which is not subject to combustion in the interaction with the laser beam.
Plywood for laser cutting meets three basic product requirements by manufacturers of flat cutting dies for cardboard, corrugated cardboard and labels:
Deviation limit of the sheet thickness is +/- 0.2 mm;
Improved flatness;
Lack of cavities in the inner layers.
For the production of laser plywood only the highest quality raw material is used. It ensures high speed and efficiency of laser cutting.
Overall dimensions of plywood for laser cutting:
1220 × 1525 mm;
1270 × 1525 mm;
1100 × 1500 mm;
1830 × 1220 mm;
1750 × 1330 mm;
1100 × 1525 mm;
1650 × 1130 mm;
2200 × 1525 mm;
2135 × 1525 mm;
2440 × 1525 mm.
One of the main areas of the use of plywood for laser cutting is the production of cutting dies
Plywood coating types for laser cutting:
Grinded plywood (uncoated).
Varnished (coated with transparent varnish).
Coated with a transparent melamine film.
Coated with colored varnish (colors – blue, orange, gray, red, green, yellow).
Varnished plywood
LaserPLY Dieboards is our own brand of plywood used for laser processing. At your request, plywood can have different thicknesses and sizes. This is a unique offer in Riga and Latvia.
Here you can order laser plywood Advantage UVC or plywood coated with melamine film – great materials having excellent characteristics for laser cutting in the manufacture of top dies.
Plywood for laser cutting is made in the ordered size within one batch. If you need a special size, please send a request. As a rule, we can offer sheet cutback in any convenient format you need.
We are open for cooperation
By purchasing any product from PG Wood – you always purchase the best quality.
We are glad to cooperate with you and always ready:
To offer the product you need at an affordable price;
To provide consultation of experts on materials and features of their application;
To organize the production of goods on special order, or on individual conditions;
To develop partnership relations.